A special Indian edition of Brand Meaning is now available.
The text is in English.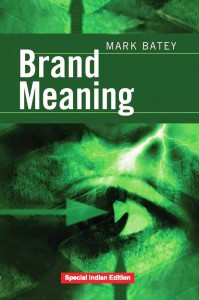 This follows translations in Spanish (El Significado de la Marca) and Portuguese (O Significado da Marca). Brand Meaning will be published in Chinese early in 2015.
The book explores how people find and create meaning in brands, in a process of co-creation of brand meaning.
"Must reading for everyone who studies or manages brands," Gerald Zaltman, Professor of Marketing, Harvard Business School.

"This book has the potential to be a "cross over" title that reaches out to both managers and academics," Rajeev Batra, Professor of Marketing, Ross School of Business, University of Michigan.